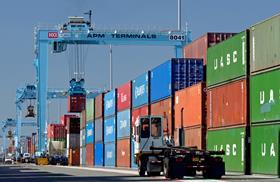 Ongoing shipping disruption has provided a challenge to Australia's citrus industry as its export season continues.
According to a report from the ABC, the Covid-19 pandemic has amplified supply chain issues such as container shortages and port delays and not for the first season, exporters are feeling the pinch.
Ros Milverton of Australian logistics company Seaway Intermodal, said the company had citrus in its coolroom ready to be shipped but there were fewer ships to take it.
'In recent years we've had fewer shipping lines calling through Australia, although they've been larger vessels, but when they call less often it does create more complexity to make sure we meet the market,' said Milverton.
'This was happening a bit prior to the pandemic but with overseas port issues since then, it's proved really difficult to manage export programmes.'
Perry Hill, general manager of Mildura Fruit Company (MFC), said there were issues at both ends of the supply chain with some delays in China and Singapore.
'It just creates so many problems because suddenly you've got a build-up of stock, you're paying for cool store for that stock, so you're trying to slow the harvest down, so it's not a great position to be in,' Hill said.
'At this stage, we haven't had great hold-ups in those (China and Singapore) ports but when you have big loads you can get some serious delays."
Despite the logistical hurdles, Hill said there was still demand in-market for Australian citrus including China, one of the industry's key markets.
'China is still a good market,' Hill said at the start of August. 'We were a little bit concerned leading into the season where that would sit but fruit is moving OK through that market.'