High-profile athlete shares her love for snack-sized apple on Instagram and TikTok
One of the biggest names in skateboarding will help grow brand awareness for Rockit apples, particularly in the US.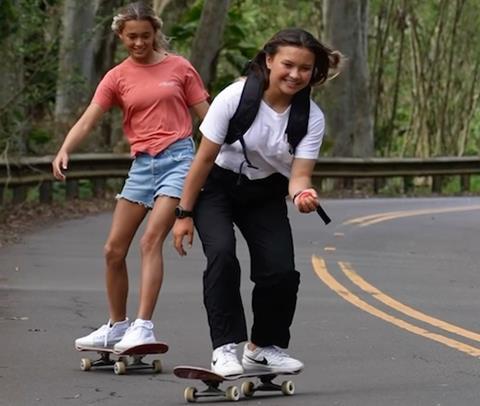 Sky Brown, a multiple X Games and Olympic medallist, has signed a partnership deal with the company behind the snack-sized apple offering, Rockit Global.
The partnership will see 14-year-old Brown post about Rockit on her social channels during 2023, with the option to extend the agreement after that. Her first post went live earlier this month on Instagram and TikTok.
"With her 2.1m followers on TikTok and another 1.3m on Instagram, Sky has enormous reach and is hugely admired and keenly followed by millions around the world," says Rockit Global's general manager global marketing, Julian Smith.
"Our brand awareness has grown significantly in the US and Sky will allow us to reach a whole bunch of new consumers who will get to taste and enjoy our unique Rockit apple. There's no doubt Sky is an inspiration and is making history by showing young people, particularly girls, they can reach their dreams and become unstoppable."
Born in Miyazaki, Japan, Brown became the youngest professional skateboarder in the world at the age of ten.
In 2021, she won the X Games women's skateboarding park gold medal. Brown represented Great Britain at the Tokyo 2020 Summer Olympics (held in 2021), winning bronze in the park skateboarding event. She was named the BBC Young Sports Personality of the Year for 2021.
Brown is also endorsed by brands such as Nike, GoPro, and Samsung, putting Rockit in very good company.
"Sky has high energy and a zest for life, which is an attitude she definitely shares with Rockit, making her an ideal partner," Smith said. "Like us, Sky is power-packed with energy, fun and enthusiasm."
Rockit apples are now grown in New Zealand, Australia, the US and Europe, and sold in more than 30 countries around the world.