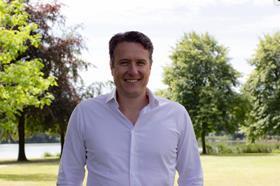 Smart Horticulture Asia, which brings together leading players from the region's fresh produce supply chain to discuss technology and horticulture from around the world, takes place alongside Asia Fruit Logistica 2019 in Hong Kong on 4-6 September.
Much like the first three successful editions, the programme delivers top-notch speakers from leading companies at the crossroads of global technology and horticulture.
Ronald Hoek, director at AgroEnergy, which has a proven track record in autonomous energy management in the Dutch horticulture greenhouse sector, will speak on Friday 6 September – a day dedicated to the subject of artifical intelligence for smart produce.
Without giving too much away, what kind of things will you be discussing during your talk on 'Artificial Intelligence'?
RH: I will be speaking about autonomous growing, our solutions using data science and artificial intelligence. I'll address the possibilities to scale up greenhouses with this technology while we are less dependent on human crop experts.
The amount of greenhouses is growing worldwide. But who can operate these greenhouses? There's a strong lack of experts to fulfil this job. Artificial Intelligence can fill this gap and even do a better job. Is the market ready for algorithms that can feed the world?
What is the key takeaway message from your talk?

RH: I would like the delegates to be convinced that autonomous growing is possible. I would like them to see the opportunities that come with this technology. I hope they consider artificial intelligence to be a solution for food scarcity problems.
Are we able to grow without the green fingers of a Smart grower? Do we have enough knowledge to do this, and what's the time frame this change will happen? (Or not?)
RH: It is possible. We proved our capabilities and solutions already last year during a challenge in a real cucumber greenhouse of Wageningen University in Holland. At the moment we are enhancing our models in several production locations in Holland.
So it's not a question if it is possible. The question is: are investors and growers already shifting their minds enough to fully embrace this new development?
What else are you looking forward to seeing during smart Horticulture Asia or Asia Fruit Logistica in Hong Kong?
RH: Our models depend on high quality, low cost sensors and more sophisticated labour registration systems. I hope to see good examples and new innovations on that field.