South African grapes ends three-year promotional campaign in China and uses off-season to discuss the future
A highly successful three-year promotional campaign for South African table grapes in China came to an end this season, with the industry now using its traditional off-season to fully evaluate results and plan future activities.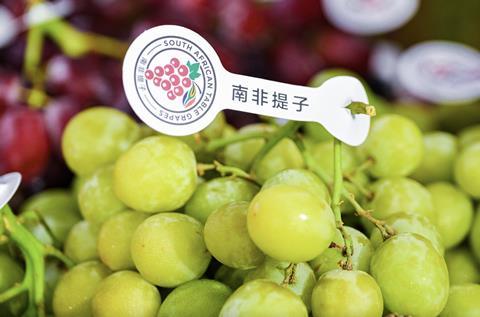 It is certain that the campaign will be continued, but it is to early to say in what format it will do so.
Table grapes is one of only two South African export industries with active promotional campaigns in the East. The other is the South African apple and pear industry, which has launched similar campaigns in China and India.
It was always expected that the table grape industry would undertake a detailed review once the three-year campaign came to an end.
Sati, the industry body, previously expressed its satisfaction with this year's campaign, which was mainly conducted during March and April.
"Sati is pleased with this year's campaign and will be analysing results for the future," said Mecia Petersen, market development and communications Manager at Sati.
"While no definite plans have been announced yet, Sati wish to proceed with a campaign next season, taking into account available funding and the need to expand in other areas in Asia.
"Overall, Sati is grateful for support by the Western Cape Government and specifically the Department of Agriculture, as well as exporters, producers and industry partners who worked with us," she continued. "This enabled us to successful deliver the 2022/23 China market development campaign.
"We look forward to further collaboration in future as we work to maintain South Africa's position as a preferred supplier of table grapes."
Petersen confirmed that Sati would meet with those who participated in the campaign this year during Asia Fruit Logistica and Asiafruit Congress in Hong-Kong.
"During the past year the South African Table Grape Industry has continued its strategic efforts to expand market share in Asian territories," she said.
"The China Market Development Campaign, co-funded by the Western Cape Department of Agriculture, was successfully executed in March and April 2023 and South Africa's product received positive feedback from the market.
"The opportunity to interact with stakeholders at Asia Fruit Logistica is important to us," Petersen added. "Building relationships as we expand our market share in Asia is important to SATI, and Asia Fruit Logistica offers the opportunity to engage with key industry role-players."
The China Market Development Campaign launched at Guangzhou's Jiangnonghui wholesale fruit market.
Joining hands at the event were representatives of the South African Embassy in China, South Africa's Western Cape Government, and leading Chinese fresh fruit importer Goodfarmer.
Last season, South African table grape exporters cooperated to deliver a campaign in China that consisted of a focused approach to achieve shorter transit times and a narrower arrival window with cultivars preferred by consumers in China.
This focused supply strategy was bolstered with concurrent promotional activities by table grape importers and retailers in China that included the wholesale market event, media outreach, and retail events and promotions in multiple Chinese cities.