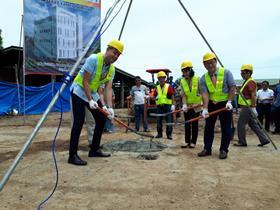 The Korean government's Korea International Cooperation Agency (KOICA) has announced a US$9.5m grant to be used for agricultural development in the Quirino province in the Philippines.
This grant will form phase-two of the Quirino Integrated Rural Development Project(QIRD), which was established in 2013 with the aim of developing the province's agriculture production.
The first phase already produced successful outcomes, it established an educational farm for training growers, a tree nursery and disseminated vegetable seed and seedling to 150 growers.
The second stage of the project will include the construction offarm-to-market roads and the establishment of mushroom production facilities, according to a Manila Times report.
Kim Sun Young, South Korean minister-counselor, said it was uncommon for KOICA to provide consecutive funding for the same region but the success of the first phase brought on the decision.
"We highly value the committed will of all the stakeholders in the region to emulate Korea's successful experience of transforming the rural area through the New Village movement called Saemaul Undung," Young said.