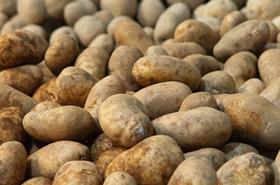 South Korea has reopened to potato imports from the US state of Idaho following an assessment of the state's nematode eradication programme by Korean scientists.
Korea imposed a ban on Idaho potatoes in 2006 after the discovery of the pale cyst nematode in two of the state's counties, reported the Idaho Statesman.
Imports from those two counties, Bingham and Bonneville, are still banned, but the ban has been lifted for the rest of the state as of 29 July.
Idaho is four years into a seven year eradication programme of the thread-like worm, which has significant effects on potato crops and is particularly invasive.
"We're very lucky we caught it early," said Frank Muir, CEO of the Idaho Potato Commission. "We've tested more than 300,000 samples. I joke that we've lowered the elevation of Idaho."
The 2006 nematode detection also prompted a potato ban from Japan, Canada and Mexico. While Canada and Mexico have reopened to US potatoes, Japan's ban on fresh potatoes from Idaho is still in effect.
South Korea imports around 16,000 tonnes of potatoes, and is part of an increasing focus on Asian markets for US potato exporters.
Idaho potatoes could also be a significant beneficiary of the free trade agreement currently under discussion between Korea and the US. The industry estimates the market could be worth US$60m for potato exports following an FTA, reported Capital Press.
Idaho potatoes are also exported to Hong Kong, Macau, Singapore and Malaysia, reported the Idaho Statesman.