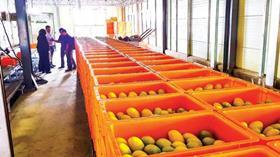 South Korean companies are looking for opportunities in Cambodia after the initial success of imported Cambodian mangoes.
The first Cambodian mangoes exported to South Korea were shipped in January 2020 and there appears to be an appetite for much more.
According to The Phnom Penh Post, the Korean Trade-Investment Promotion Agency (KOTRA), said Cambodian mangoes are proving to be popular among consumers sparking the interest of local companies looking to export.
Jongsoo Shin, director-general of KOTRA, said the consumer response will help spur South Korean companies into action.
"Fresh mango from Cambodia enjoys a warm welcome in South Korea. This will help attract more Korean investors to Cambodia," said Shin.
Mao Sophea, sales manager of Kirirom Food Product, told The Phnom Penh Post that her company is planning to export dry mango to South Korea.
"On average, the company processes about 60 tonnes of fresh mango per day," Sophea said.
"We are looking for partners in South Korea because this market has great potential for Cambodian mango products."