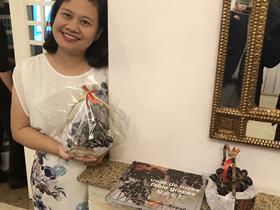 After setting off at the end of August, the first four containers of Spanish table grapes exported to Vietnam have arrived.
This marks the end of a lengthy process which saw the export protocol signed in December 2018.
The grapes arrived with perfect timing for Fiesta Nacional de España, the national day of Spain, and the Spanish embassy in Hanoi was presented with two baskets of the fruit as the embassy hosted celebrations.
The remainder of the shipment, grown in the Murcia region, will now be distributed to stores and supermarkets in major cities across Vietnam.
With this first shipment completed, Murcia grape exporters see Vietnam and an important emerging destination for their grapes, especially with its population of more than 95m and economic growth of 7 per cent per year.
Murcia is the leading table grape exporting region in Spain, accounting for around 70 per cent of the national total. In 2018 shipments reached 116,153 tonnes with a corresponding value of €236m (US$262m), an increase of 24 per cent and 25 per cent respectively on the previous year, according to Fepex.