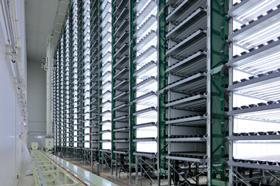 Japanese vertical farm specialist Spread and J Leaf Corporation have partnered on Techno Farm Narita, a new automated vertical farm which started operations on 30 of June.
Spread already owns and operates two vertical farms in Western Japan (Kyoto), the Kameoka Plant and Techno Farm Keihanna. Techno Farm Narita is Spread's first partnership project, and the first to be located in Eastern Japan.
The most significant feature of Techno Farm Narita is the increased efficiency in the use of land. This has been achieved by increasing the number of cultivation racks levels to 28, double that of Techno Farm Keihanna.
Spread said it plans to build on the know-how accumulated through the operation of Techno Farm Keihanna to deliver increasingly sustainable food production.
Techno Farm Narita also retains other features of Spread's next generation food production system, Techno Farm, including pesticide-free, stable cultivation, integrated automation, specialized LED lighting, and Spread's proprietary IoT-based cultivation management system, Techno Farm Cloud.