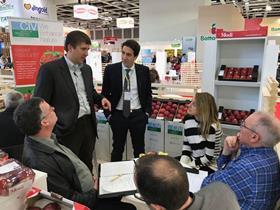 Italian consortium CIV fielded strong interest in a range of new apple varieties at Fruit Logistica in Berlin earlier this month.
This was complimented by further enquiries about its Civg198pvr apple, which is now being produced across the world and marketed under the brand name Modi.
"We recorded a concrete expression of interest for the Civg198pvr/Modi apple from some extra-UE operators as well as for some new apple varieties and/or selections developed by our Varietal Innovation Centre," said CIV chairman Pier Filippo Tagliani. "These came from certain important international groups, with whom we are now jointly defining the most appropriate development methods to finalise the related strategic operational partnership/cooperation agreements.'
CIV, which owns the Civg198pvr apple variety patent and the Modi brand, also hosted the fifth Modi Apple International Meeting in Berlin.
The meeting brought together all of the variety's international licensees, in a bid to further develop the Modì brand and to share best practices in marketing and production technologies.
A warm welcome was extended to Modi's new Indian commercial partner IG International, whose managing director Tarun Arora was present at the meeting.
Arora spoke about the recently-signed agreement with CIV and the relative launch and development plan of the Modiciv brand on the Indian market.
'This commercial partnership foresees a supply-programme for 2018 shared between several international licensees and a targeted programme of promo-communication initiatives and marketing events to properly support the Modiciv brand within the Indian territory with the main local retail chains," Tagliani explained.