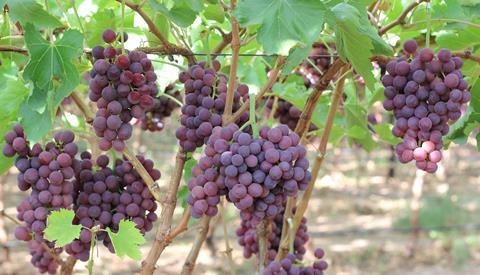 Early season table grape exports from South Africa are looking similar to the same time last year, except for one differentiating factor: the destination.
There has been a significant rise in exports to Asia, with shipments doubling last year's total volume already.
The increase is due to an earlier season for South Africa's Orange River region, and while it is subject to change given the timing, the initial information provides an indication that exporters are beginning to focus more on Asia, a trend that's expected to continue growing.
A South African Table Grape Industry (SATI) forecast released in late 2019 indicated the country could ship between 61m and 67.8m cartons this year, but with the season forecast to run until April 2020, there's still a lot that can happen.
South African table grapes are arriving to better market conditions in traditional markets of Europe and the United Kingdom compared to last year, meaning these markets will take an increased share year-on-year.
With harvest well underway in the Orange River region, marketing plans may well be disrupted by the wide-ranging impact on the country's power supply issues.
Daily interruptions have been reported as the country's grid struggles with demand. This has affected cold storage of fresh produce and will have a direct impact on shipping programmes.
Growers in the Orange River region have resorted to using emergency generators and solar panels as a power source, but it's not sufficient to deal with the current crisis.
In the regions where the season peaks later, power supply issues are expected to impact irrigation programmes. Fruit grown there will be susceptible to a range of weather conditions and may cause problems to the overall crop.
South Africa's continued development of new and exciting varieties is sure to interest Asian consumers. The country is already one of the biggest investors in branded or royalty earning varieties from the best breeding programmes in the world. This includes a full range of white, red and black seedless table grape varieties.
An exciting new variety, which is finding favour with growers in all regions, is Tawny Seedless, a red seedless table grape.
There has been a boom in plantations in the Northern and Orange River regions.
Regions with a later season, including the Berg River and the Hex River, are expected to begin harvesting in early January, which will provide a further boost for shipments to Asia.
SATI has been focusing its efforts on increasing market access in Asia.
The industry body is busy working on plans to introduce trial programmes focusing on promotion in China and is also hoping South Africa can soon start exporting its table grapes to Vietnam.
There is also hope that Japan will update restrictions to allow new varieties to be imported alongside the outdated Barlinka variety. If this happens, consumers can look forward to exciting new options on the shelves.