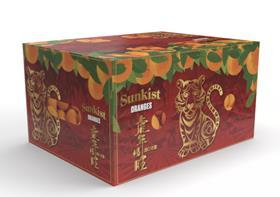 Sunkist Growers has launched a red 10lb (4.5kg) carton and matching bin display to highlight the Year of the Tiger featuring a custom gold tiger illustration.
The new packaging designs are being rolled out across a range of markets in Asia ahead of Lunar New Year (LNY), including China, Hong Kong, Japan, South Korea, Malaysia, Singapore, and Indonesia.
"The bright, vivid colours on the carton and bins are visually appealing and showcase the natural beauty of the citrus," explained Christina Ward, senior director of global marketing for Sunkist Growers.
"We know citrus plays a significant role as a symbol of prosperity during Lunar New Year. We are honoured to be part of such meaningful longstanding traditions and to be able to offer shoppers fresh oranges and more, grown by our California and Arizona farmers."
While navel oranges are Sunkist's leading seller for the festivities, the packaging is designed to showcase a range of citrus offerings.
"This year, the beautiful box can hold either navel oranges or Cara Cara oranges, which give citrus buyers more flexibility with their Lunar New Year promotions," said Ward.
"In addition, we have matching display bins to add to the in-store festivities, which can carry any Sunkist variety, including California mandarins and our big and sweet Pummelos."
Sunkist is undertaking in-store activations in key Asia-Pacific markets for Lunar New Year, while consumers can also look to its social media accounts for recipe inspiration throughout the festive season, said Ward.
This is an abridged version of an article from the December/January edition of Asiafruit Magazine, which features a complete preview to the Lunar New Year sales period across Asia. You can access a free copy of the app edition here.