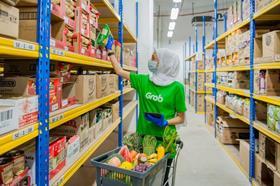 South-East Asian superapp Grab has announced it intends to go public in the U.S. in partnership with Altimeter Growth.
Singapore-headquartered Grab will merge with Altimeter – a special purpose acquisition company – and they will become wholly-owned subsidiaries of a new holding company.
The combined company is expected to have an equity value on a pro-forma basis of approximately US$39.6bn. The deal is also expected to provide up to approximately US$4.5bn in cash proceeds to Grab.
Operating in Singapore, Malaysia, Cambodia, Indonesia, Myanmar, Philippines, Thailand and Vietnam, Grab's app delivers a range of services including online food delivery, ride-hailing and digital payment.
In the past year Grab has significantly expanded its online food and grocery delivery services, it launched its online supermarket and brought fresh produce growers online.
Anthony Tan, Group chief executive and co-founder of Grab, said it gave the company great pride to represent South-East Asia in the global public markets.
"This is a milestone in our journey to open up access for everyone to benefit from the digital economy. This is even more critical as our region recovers from Covid-19," said Tan,
"It was very challenging for us too, but it taught us immensely about the resiliency of our business. Our diversified superapp strategy helped our driver-partners pivot to deliveries and enabled us to deliver growth while improving profitability.
"As we become a publicly-traded company, we'll work even harder to create economic empowerment for our communities, because when South-East Asia succeeds, Grab succeeds."
Grab's decision to become a public company was driven by strong financial performance in 2020, despite Covid-19. Grab posted gross merchandise value (GMV) of approximately US$12.5bn in 2020, surpassing pre-pandemic levels and more than doubling from 2018.
According to Euromonitor, Grab accounts for 50 per cent of total regional GMV for online food deliveryfor Indonesia, Malaysia, Singapore, Thailand, Philippines and Vietnam.
For more on the rise of Grab and its plans for integrating fresh produce into its services read Asiafruit's interview with Demi Yu, regional head of GrabFood and GrabMart, in Asiafruit November 2020.