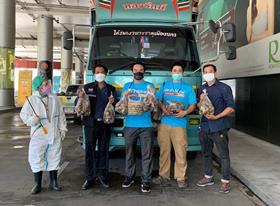 Thailand's air force has been called upon to transport fruit across the country in an attempt to shore up fruit prices.
According to a report from the Bangkok Post, the initiative by Thailand's Ministry of Agriculture and Cooperatives flew mangosteen grown in the southern province of Surat Thani north to Chiang Mai, meanwhile, the return flight was filled with longan.
Wichawut Jinto, governor of Surat Thani, said the province had produced around 7,000 tonnes of mangosteen casing an oversupply in the local market.
The oversupply combined with the downturn in the country's economy due to the Covid-19 pandemic had seen prices drop to record lows he said.
This initiative provided a new market for growers in these respective regions and Jinto said theprogramme will also be expanded to include rambutans from Surat Thani and rice from the north-east of Thailand.
Thailand's Ministry of Agriculture and Cooperatives has also supported the plight of the country's mangosteen growers with its "Happy Farmers" project. Through this project, the ministry is working with the private sector and Thailand Post to deliver fruit from growers direct to people's doors.
Chalermchai Sri-on, minister of agriculture and cooperatives, said the country had to support growers during this difficult time.
"Under the crisis that arises, the most important thing is the cooperation that all Thai people must help each other and consume Thai fruits," said Sri-on.
"We have to take care of farmers in every province to get through the Covid crisis together. Even today, there are signs that the price of mangosteen has risen, but there is still uncertainty of price stability.
"Therefore, additional measures must be taken to help stimulate consumption, especially where exports still have obstacles from the Covid-19 situation."
The ministry said it plans to replicate these efforts for other fruits facing the same problem such as longan and rambutan.