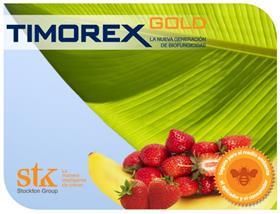 Food protection solutions specialist Stockton has signed a commercialisation and distribution agreement with Syngenta Australia, granting it the exclusive right to distribute Stockton's Timorex Gold biofungicide for application in edible crops in Australia and New Zealand.
Timorex Gold will be manufactured and supplied by Stockton, and marketed and distributed by Syngenta under Stockton's brand.
Grosafe Chemicals Limited, which has managed the Timorex Gold trial programme and commercial development for Stockton over the past three years, will continue its support in product development, efficacy trials and technical matters and will hold the registration for Timorex Gold in New Zealand.
"Timorex Gold will give growers across Australia and New Zealand a new and effective disease management tool which will improve the sustainability of food production,' said Paul Luston, Syngenta territory head for Australasia. 'It complements our leading viticulture portfolio, including Switch, Thiovit and Topas, providing a comprehensive, integrated resistance management offering.'
"We are very pleased that our collaboration with Syngenta has extended to new territories," said Guy Elitzur, CEO of Stockton. "This agreement further strengthens our business relationship and serves as an additional validation of future partnerships between the two companies."