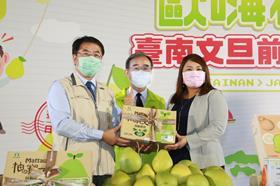 Taiwan is set to send pomelos to Japan for the first time in 20 years as it looks to reduce its reliance on China for pomelo exports.
According to a release from the Tainan City Government, the 11 tonne consignment of citrus fruit has entered 12 days of cold treatment and will be exported to Japan mid-September.
Once in Japan, 100 of the 3,600 boxes of pomelos will be donated to schools for students and teachers and a promotional campaign designed for the Japanese market will also be implemented. It is set to highlight the fruit's characteristics and promote eating methods to Japanese consumers.
The decision to resume exports to Japan is part of Taiwan's efforts to diversify its pomelo exports. According to Tainan's Agriculture Bureau, China accounted for 89 per cent of Taiwan's pomelo exports in 2019 but only 71 per cent so far in 2020.
Exports to markets such as Hong Kong, Canada and Singapore have all increased as part of these efforts and the latest shipment to Japan will also contribute to the reduced reliance on China.