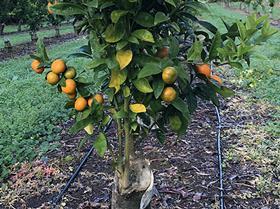 Some clever orchard management has helped T&G Global capture new export opportunities for New Zealand-grown citrus.
Around 20ha of the company's mandarin orchards in the Northland region have been converted to the Afourer variety.
Graft wood was originally collected from mature trees in 2018 and 2019 and grafted onto 24,000 freshly cut stumps ofrootstock, which were previously Satsuma mandarins.
The Afourer mandarins are now showing excellent growth only two years after planting, with the first 10ha now bearing fruit.
"It was a massive project which had significant risks, so we're very pleased to see this exciting new, late season variety taking off," said Tom Chamberlain, T&G Global's regional manager – Northland, "Two years ago, these trees were Satsuma mandarins and now they're producing Afourer mandarins."
Chamberlain said the production of new trees usually takes years to bear fruit, but the use of this grafting technique has enabled the trees to bear fruit over a shorter period of time.
The Afourer variety has a bright orange colour and harvests after the Satsuma season.
Chamberlain said the move has opened up an export opportunity for the company, with strong demand for citrus coming from consumers in Hong Kong and Japan.
"We couldn't get the volumes they demanded to those export markets this season, so we're excited about this extended window," explained Chamberlain. "It [Afourer] is also a fruit that travels well to export markets.'