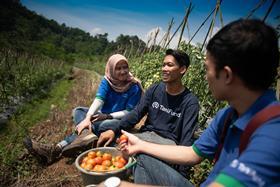 TaniHub Group has completed its Series B funding round in which it raised US65.5m to support the expansion of its business.
The Indonesian ag-tech start-up said it will use this latest injection to expand into more parts of the country with the aim of increasing the volume of product it can absorb, thus enhancing growers' access to domestic and international markets. This will include the constructoin of a number of mini-hub packaging facilities
Pamitra Wineka, chief executive of TaniHub Group, said expanding the reach of services and strengthening the supply chain will be the main focus in this funding period.
'The agricultural sector in Indonesia is not connected to each other because there are many small players with limited service coverage areas, so inefficiencies in the value chain are inevitable," said Pamitra.
"Therefore, we plan to strengthen our role in every region of Indonesia to be closer to farmers and communities.So that in the end what we do can reduce the price disparity between farmers and consumers."
TaniHub Group operates three services TaniHub, a B2B and B2C e-commerce platform for agricultural goods including fresh produce, TaniFund, a peer-to-peer lending platform providing growers with capital and TaniSupply its fulfillment and supply chain arm.
The company's technological solutions helped it excel during the Covid-19 pandemic as demand for agricultural products shifted online, TaniHub said its revenue grew 639m per cent (year-on-year) in 2020 as a result.
TaniHub has now raised nearly US$100m and the Series B round of financing was led by MDI Ventures, with the participation of several new and previously participating investors, namely Add Ventures, BRI Ventures, Flourish Ventures, Intudo Ventures, Openspace Ventures, Tenaya Capital, UOB Venture Management, and Vertex Ventures.
Smita Aggarwal, global investments advisor for Flourish Ventures, said TaniHub Group was solving come of the challenges facing Indonesia's agricultural sector.
'The TaniHub Group business model is a unique combination of a balanced network of suppliers, demand aggregation and finance for stakeholders, including small farmers, street vendors, small business owners and household consumers," said Aggarwal.
"TaniHub Group offers interesting solutions to the problems of this compartmentalised agricultural sector.Because this business model allows linkages with markets and access to finance for farmers."