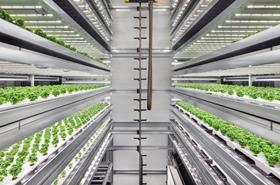 Advances in automation and artificial intelligence (AI) are behind Japan's growing number of vegetable vertical farming operations.
According to a report from The Japan News, the number of vegetable vertical farms or "factories" in Japan has grown from 93 in 2011 to 390 in February 2021.
This surge has been technological advances that have improved the capabilities of vertical farms. Examples include the Kinokuniya International Supermarket Aoyama store near Omotesando Station in Tokyo, where parsley and herbs are grown hydroponically inside the store under LEDs. The produce is planted and harvested twice a week to be sold in-store.
Hiroshi Fujimura, secretary general of the Japan Greenhouse Horticulture Association, said this approach to growing eliminated a number of variables.
"Vegetable factories are less affected by changes in weather and soil is not required if they use hydroponic culture," Fujimura noted.
The trend is also drawing investment from overseas and outside of the agricultural sector. Germany-based Infarm is involved in 1,400 vertical farming facilities in 11 countries including Japan.
Ikuo Hiraishi, president of the Japanese arm of Infarm, said its operations utilise the latest sensors to measure the growth of all produce. The conditions in each farm such as lighting can be analysed and adjusted using AI.
"Based on data, we want to pursue a farming method that requires less water, fertiliser and cost," said Hiraishi.
Chubu Electric Power, ES-Con Japan and vertical farming specialists Spread have entered into an investor agreement and established the company Tsunagu Community Farm to construct and operate vertical farms.