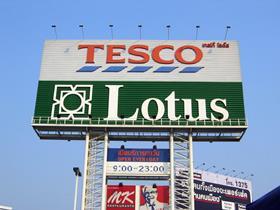 Tesco's sale of its Thai and Malaysian stores to CP Group has been finalised, representing the end of the company's time in Asia.
The UK-based retailer had announced its plans to sell its Asian business to CP Retail Development on 9 March 2020, however, the sale had to be vetted by authorities.
The sale was approved in both countries in November and subsequently reviewed and approved by CP Group, adding 2,000 Tesco Lotus stores in Thailand plus 74 Tesco stores in Malaysia to the Thai conglomerate's portfolio.
Ken Murphy, chief executive of Tesco Group, acknowledged the efforts of all those who represented the company during its time in Asia.
"I would like to thank all our colleagues in Asia for their hard work and dedication to our customers over many years. They have built a very strong business. I'm confident that the agreement with CP Group will ensure that they are well setup for continued success," Murphy said.
"This sale allows us to focus on our businesses across Europe and to continue delivering for customers, make a significant contribution to our pension deficit and return value to shareholders."
Tesco said it intends to return circa £5bn (US$6.6bn) of the net proceeds to shareholders via a special dividend, together with a share consolidation, and will also make a significant pension contribution of £2.5bn (US$3.3bn) to the Tesco PLC pension scheme.