Exotic fruit the centrepiece of new digital campaign from the Tourism Authority of Thailand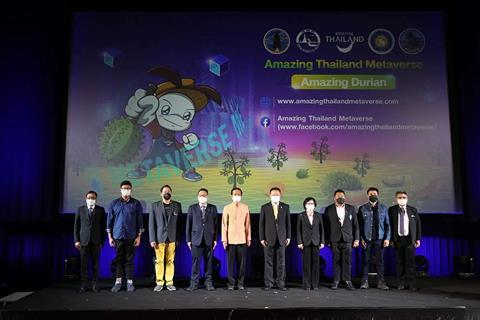 The Tourism Authority of Thailand (TAT), together with the major durian production regions of Chanthaburi, Rayong, and Si Sa Ket, have launched a new digital experience Amazing Thailand Metaverse: Amazing Durian.
Durian was chosen to headline the tourism campaign due to the growing international demand for the fruit, particularly in China. The new virtual travel experience was created to attract a new sector of tourists, especially durian lovers, in addition to further promoting one of the country's key agricultural exports.
Yuthasak Supasorn, TAT Governor said the metaverse would connect the virtual world and the real world in the wake of the pandemic and leverage the popularity of durian.
"The metaverse is a new era of the digital world, and TAT has identified world trends and consumer behaviour in line with this as an opportunity to increase the competitiveness of the Thai tourism industry," said Supasorn.
"It is an exciting way to resume business as Thailand reopens to foreign tourism in a sustainable manner, which is a key objective of the 'Visit Thailand Year 2022: Amazing New Chapters' campaign. Tourists will be encouraged to visit Thailand after enjoying their virtual experience."
The launch of the experience coincided with the current durian season and visitors can explore virtual durian gardens designed from actual durian orchards.
The orchards currently participating in the project include Suan Arun Burapha and KP Garden (Chanthaburi), Lamai Garden and Suphattra Land Park (Rayong), and Ing Than Park (Si Sa Ket) with more expected to join.
TAT in cooperation with the participating durian orchards and selected NFT creators have also created the NFT Collection Amazing Durian in the metaverse.