Daikin Reefer helps Thai mango exporter Swift switch from airfreight to seafreight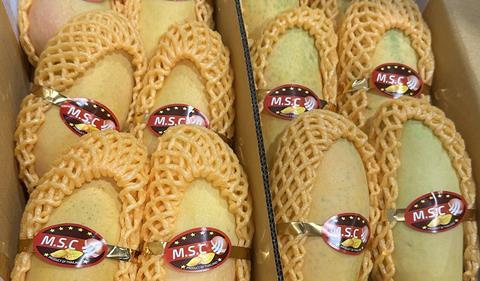 Daikin Reefer has worked with Thai mango shipper Swift and CMA CGM to successfully transport Nam Doc Mai (Honey) and Mahachanok (Rainbow) mangoes from Thailand to Korea and Japan using seafreight rather than airfreight.
The three collaborated on both static and live trial shipments using Daikin Active CA (controlled atmosphere) technology to prove the viability of seafreight.
The two mango varieties are renowned for their short shelf-life and require precise atmospheric transportation conditions. For this reason, almost 100 per cent of all Thai mango exports have until recently been undertaken using airfreight.
The initial static trial was conducted for both mango varieties in order to simulate a typical sea voyage using a 20ft container fitted with Daikin Reefer CA. Mangoes at varying levels of maturity (ripeness) were 'shipped' over 15 days using the static CA container in the shipper's factory.
The static trial outturn proved successful. Daikin's Active CA technology with its customised control logic provided the precise atmosphere management needed to preserve the shelf-life of the mangoes, ensuring high-quality cargo outturn and proving that a switch in transport mode from air to sea was possible.
The decision was then made to move forward with a live trial shipment of in-season Mahachanok mangoes using a container provided by CMA CGM and fitted with Daikin Active CA. The Climactive container was shipped on CNC service, the Intra-Asia brand and subsidiary of the CMA CGM Group.
Transporting delicate perishable cargo via ocean transit differs considerably to air freight transportation. Particular post-harvest handling methods are required for ocean transit, including pre-cooling, packaging and correct stowage, and the Daikin Reefer team was on hand to provide advice to the shipper.
Ambient temperatures in Thailand can exceed 40C, creating challenging conditions for loading perishable produce into containers: the shipper's cold store facilities were designed specifically to support air-freight transportation and the absence of container cold tunnel loading facilities made the loading conditions for the mangoes much more challenging.
The benefit of Daikin Active CA's control logic in continually fine-tuning both temperature and atmospheric composition inside the container meant that despite the challenging external ambient conditions, the mangoes arrived in good condition.
Following the success of the first live trial shipment, a second live trial shipment was also conducted to fine-tune the expected ripeness of the mangoes upon arrival.
"We were delighted with the results of the live trial shipments" commented Julian Carbunaru of CMA CGM. "Mangoes are a popular tropical fruit and their consumption is increasing. The ability to transport them via sea rather than air thanks to our Climactive means that new and distant markets can be reached".
Ah Huat Goh, general manager, global marketing and service, reefer department of Daikin Reefer, said the successful trials created exciting opportunities for shippers, particularly when it comes to reducing the carbon footprint of fruit exports.
"Daikin CA technology has once more successfully proven that it is possible to switch mode from air to sea for perishable cargoes that previously could only be transported via costly air freight. Our technology preserved the freshness, ripeness and value of the mangoes" he concluded.