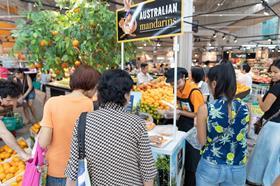 Thai consumers have snapped up more than 100 tonnes of Australian mandarins in six days on the back of a new promotional campaign.
The campaign was launched by Thai hypermarket Tesco Lotus and Austrade with support from the Queensland Citrus Exporters Group.
The success of the campaign has been attributed, in part, to the timing of the mandarin season in Australia, which enables them to hit the shelves in Thailand during major Chinese festivals like the Hungry Ghost and the Vegetarian Festival.
The Australian mandarin campaign will run until 2 October at around 2,000 Tesco Lotus stores across Thailand.
Thailand is the second-largest market for Australian mandarins after China, with around 7,500 tonnes of exports in 2018.
Austrade's Bangkok team has been working closely with Australia's citrus industry and major retailers in Thailand on different initiatives, such as buyer visits to Australia, retail staff trainings and in-store promotions.
These activities have helped propel interest in Australian mandarins and resulted in more leading Thai retailers actively seeking the produce to sell in their stores.