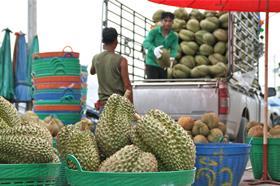 China and Thailand are set to permanently approve third country inspection and quarantine checkpoints used during the Covid-19 pandemic for fruit trade.
According to a report from The Bangkok Post, the Thai government cabinet agreed to sign a protocol that will allow Thailand to export fruit through more border checkpoints in China.
China is a key market for Thai fruit exporters and many transport their product via Vietnam. However, during the height of the pandemic China, Thailand and Vietnam all entered lockdowns, which affected the fruit trade between the countries.
Restrictions caused long tailbacks at the China-Vietnam border crossings with checkpoints. To address this China temporarily opened two new checkpoints at Dongxing and the Pingxiang.
The new protocol is set to permanently open these to checkpoints, providing more channels for the import and export of fruit between China and Thailand.
The Bangkok Post report said the protocol is set to be signed by the Thai Agricultural and Cooperatives Ministry and the General Administration of Customs of China (GACC) after the pandemic eases.