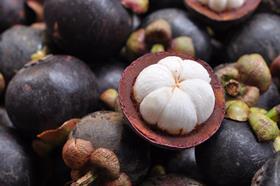 Thai exporters have utilised new train routes to ship their produce to China with the first consignment expected to arrive on 15 May.
According to a report from the Bangkok Post, Sermsuk Salakpet, director-general of Thailand's Department of Agriculture (DA) said around 18 tonnes durian and 64 tonnes of mangosteen will pass through a new customs checkpoint at Dongxing on the Vietnam-China border.
Thai fruit is often exported to China via Vietnam, so this supply chain felt the effects of border closures early in coronavirus (Covid-19) pandemic.
The report said these closures created 15km long backlogs of trucks transporting fruit and particularly affected Thai fruit, spoiling some shipments.
To address these problems Sermsuk said the DA worked with the General Administration of Customs of China (GACC)to open two more checkpoints for Thai fruit imports, one at Dongxing and Pingxiang.
Sermsuk said these new checkpoints will now help process the 70 container loads of Thai fruit that are being transported to China by train, four times a day from Vietnam.