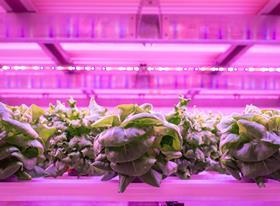 The stars have aligned for Vegetable Co, a Kuala Lumpur-based vertical farm, with the Covid-19 pandemic creating an immediate demand for the new venture.
According to a report from the New York Times, the Malaysian company started making its first sales around the start of the pandemic in March, which co-founder Shawn Ng said proved to be more of an opportunity than a hurdle.
"We were a nascent product in an uncertain market," Ng told the New York Times. "We weren't too sure if it would take off. But somehow, the market kind of played in our favour."
Vegetable Co's operationcomprises of a shipping container on the edge of a parking lot. It produces lettuce, sprouts and other vegetables grow under LED lights and sells directly to consumers.
The direct delivery became a point-of-difference during Malaysia's lockdown providing customers such as Ayu Samsudin with a secure source of fresh vegetables.
"I was very anxious during the lockdown period," Samsudin told the New York Times. "Having fresh vegetables delivered to your doorstep was such a relief."
Ng said Vegetable Co.'s parent company, Future Farms, is seeking further investment to support expansion into a larger facility. The company has already hired new staff to begin the design process.