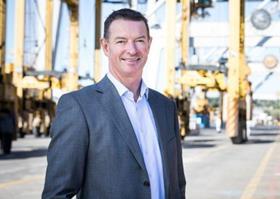 The chief executive of Ports of Auckland (POAL), Tony Gibson, has resigned, citing "personal attacks."
According toPort Strategy,POAL has been dogged by a debate over its future existence alongside three fatalities in recent years.
Gibson will step down at the end of June 2021 after 10 years in the role, with deputy chief executive and chief financial officer Wayne Thompson to act as interim chief executive until a replacement is appointed.
'Over the last few months there have been persistent and sometimes personal attacks on me as CEO," said Gibson. "I feel that this focus on me is damaging to the company and to the great people that I work with. It is taking our focus off what is really important – delivering change. I can't let that continue, so for the sake of our people and the good work that they do, I have decided to step down.'
Gibson stressed: 'As I go, I want to pay tribute to the people of Ports of Auckland. This is a company which is often in the media in a bad way, over port expansion, port location or more recently over safety and congestion. Sadly, there is little media attention on the great things our people have achieved in the last 10 years.'
He pointed to POAL's delivery of projects such as the deep-water container wharf, a new car handling building, alongside diversity and sustainability initiatives.