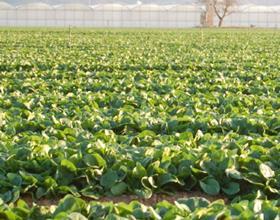 Electronics giant Toshiba is entering the vegetable industry, constructing a vegetable production facility in Yokosuka, Japan.
The sterilised facility will use controlled air and florescent lighting systems to maximise indoor plant growth, with Toshiba expecting to yield ¥300m (US$2.9m) in annual sales, according to a statement released by the company.
Toshiba plans to sell the pesticide-free, long-life vegetables commercially, and will begin shipping spinach, lettuce and other leafy greens from July 2014.
This digital farming move follows Fujitsu's announcement earlier this year that it would operate open a germ-free facility in Fukushima to produce low-potassium vegetables, such as lettuce, to cater to kidney-disease sufferers in the country who needs to restrict their potassium intake.
According to Japan's Ministry of Agriculture, Forestry and Fisheries, there are vegetable factories operating in 198 locations across Japan, a 250 per cent increase from three years ago.