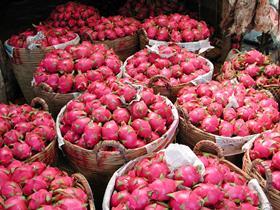 A new train route from Vietnam to China has opened and the first shipment of dragon fruit has paved a new way for fruit produced in Asean countries to enter China.
The inaugural journey at the end of February saw more than 150 tonnes of dragon fruit leave Dong Dang railway station in northern Vietnam and arrive at Pingxiang railway port in South China's Guangxi Zhuang Autonomous Region.
According to a Xinhua report, the shipment passed inspection by China's General Administration of Customs.
The successful delivery opens up a new channel to China for South-East Asian exporters with two to three fruit trains set to be scheduled every week. The service is expected to expand to include more fruits in the future.
This new channel comes at a time when supply chains into China have come under strain due to the coronavirus (Covid-19). The Vietnam-China border has been a particular flashpoint for fresh produce trade with hundreds of containers of agricultural products left stuck at the border.