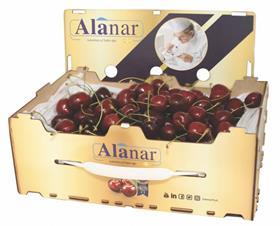 Despite lower-than-expected export growth, the 2020 season is shaping up to be a successful one for Turkish cherries.
Turkey has exported more than 70,000 tonnes of cherries worth US$190m to global markets between 1 January and 13 July this year, according to national organisation, Aegean Fresh Fruit and Vegetable Exporters Association (EIB). Hayrettin Uçak, EIB president, says the industry has succeeded in keeping export volumes on a par with levels achieved last year.
As the report from EIB shows, China (including the mainland and Hong Kong) became the sixth largest market this season with an import value of US$8m, an increase of more than 50 per cent compared to the same period last year.
Leading Turkish grower-exporter Alanar says the company has been receiving overwhelming demand from China since the beginning of the season.
"Our goods are well appreciated in China," says Tugba Okyay, Alanar's sales and marketing manager. "Alanar has definitely been the most in-demand brand of Turkish cherries there. We are even in direct competition with US cherries."
Okyay says demand has been so strong that the company considered using charter flights to keep up with the orders.
"In the end we decided to continue the season without charter, because we have managed to send around 100 pallets to China everyday through cargo flights, and the season is ending in two weeks," she says in mid-July. "But judging from the programme we will have with our Chinese partners, we will definitely have frequent charter flights next season."
The demand for Turkish cherries has seen other companies look to secure supply. According to a report from China Daily, the Turkish embassy in China held an event promoting Turkish cherries on 27 July where Turkish producer and processor Göknur Foods and state-owned major juice producer SDIC Zhonglu Fruit Juice announced a new agreement.
The agreement will seeSDIC Zhonglu Fruit Juice distribute Turkish cherries in China through online and offline channels.
Read more on the current Turkish cherry season and the latests news from other key cherry supplier countries on the upcoming July-August edition of Asiafruit.
Asiafruit is now available to read on your phone or tablet via our new app. Download it today via the App Store or Google Play and receive a two-week free trial along with access to previous editions.