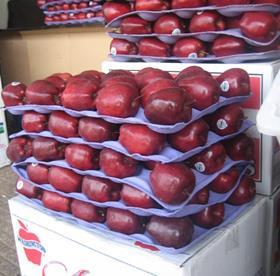 US apples have effectively lost access to the Indian market after new import regulations requiring certain fruit and vegetable imports to be certified as non-GMO went into effect yesterday.

The law, which came into force on 1 March following a three-month postponement, means that a selection of fresh produce imports to India – including apples, melons, plums, peppers, and tomatoes –must now carry proof they have not been genetically modified.

Under the new law enacted by the Food Safety and Standards Authority of India (FSSAI), every consignment of the listed products (24 in total) must carry 'a non-GM origin cum GM-free certificate' issued by an authorised national or regional government authority. The law applies to imports of apples and all of the other listed products that are shipped on, or after, 1 March.

While a number of key apple-supplying nations have reached arrangements with their relevant phytosanitary authorities to provide non-GMO documentation, the US Department of Agriculture is not issuing certificates.

"As of today, the Indian market is technically closed unless the non-GMO certificate is supplied for each shipment," Mark Powers, president of the Northwest Horticultural Council, told Fruitnet. "At present, the national authority, the US Department of Agriculture,does not and is not issuing such certificates...it is not clear that it ever will."

Powers, who has reportedly been "working day and night" to find a solution for grower-exporters, said the loss of access jeopardised the Washington apple industry's hard-earned position in the Indian market.

"Each day the market is closed is one day too many," said Powers, "In 2017, India was our second-largest export market, at present it is our 12th largest market and in danger of falling further down the list of priority countries."

Washington apple exports to India have contracted sharply this season. Exports were down by more than 64 per cent in the season to the end of February 2021, with just 381,614 cartons shipped compared with 1.07m cartons in 2019/20. India's punitive 70 per cent tariff on US apples, which compares with a 50 per cent duty on all other apple import origins, has been a key factor in the decline. A shorter Washington apple crop, higher FOB prices and long transit times have also contributed to the decline.
'Unreasonable requirements'
Powers questioned the basis for India's non-GMO certificates, pointing out that no apple shipped to India from the Pacific Northwest is genetically modified.

"India is being unreasonable in its non-GM Certification requirements," he said."More than 90 per cent of US apple exports to India are of the Red Delicious variety. There are no genetically modified Red Delicious apples in existence nor are there any other whole fresh genetically modified apples that are commercially traded. India has created a solution for a problem that does not exist."

According to a statement on Northwest Horticultural Council's website, the USDA Animal and Plant Health Inspection Service and the US Food and Drug Administration have approved two genetically modifed apples available under the trade names, Arctic Golden and Arctic Granny. These apples are owned by Okanagan Specialty Fruits, which maintains strict control of its limited production, according to NHC. The apples are sold in processed form (not whole apples) and are not exported.