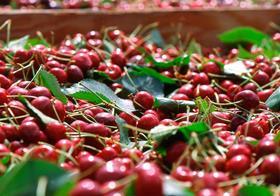 China has threatened a 25 per cent tariff on US$50bn worth of goods, including major US fruit export categories. The move came in response to US president Donald Trump's announcement on 16 June that the US would imose a 25 per cent tariff on US$50bn of imported Chinese goods as of 6 July.
After five rounds of proposing and implementing tariff threats, reports say the Chinese Commerce Ministry has again hit back. Just US$34bn of the US$50bn worth of goods will have the 25 per cent tariff implemented from July 6, with the tariffs applied to 545 US exports to begin with, including agricultural products.
The countermeasure closely mirrors Washington's, where the duties will apply to 818 Chinese products worth US$34bn from 6 July.
In line with World Trade Organisation rules, countries are able to retaliate to tariff increases with their own rates of equal value.
As reported earlier this year, those who will suffer most are likely farmers and traders on the ground, who are forced to absorb the effects of higher costs.
Major export categories in the US such as cherries, oranges, grapes, and apples are a few or the items on the list; which covers nearly every significant fresh produce category.
US fresh fruit producers are still uncertain of the impact from the 15 per cent tariffs implemented by the Chinese government in early April. Following the announcement, US-based agricultural economist Des O'Rourke said the Washington apple industry (which is on course for its second largest crop on record in 2017/18 at a projected 135m 18kg cartons) could face lower domestic prices in the US while Chinese-grown apples would enjoy less competition in China.
Pacific Northwest cherries are one of the first products to face the impact of the tariff, since their season is ramping up now. Last year, China overtook Canada to become the leading export market for Northwest cherries, taking a record 2.98m cartons. With another record crop on its hands, the US-China trade conflict is a cause for concern for the cherry industry.
While noting that the tariffs would affect pricing of US cherries in China, Peter Zhu of Chinese greengrocer chain Pagoda told Asiafruit in mid-June that he did not expect a signficant impact on sales. "As long as there are no delays at customs we don't expect it to affect sales too much in China," he said. "There are very few options at this time of year in the cherry category. For now, quality will be the key factor this season. Consumers will accept a higher price if the quality is worth it."
Following the announcement of the additional 25 per cent tariff, California Citrus Mutual president Joel Nelsen, expressed his opinion that if the trade "war" extends into the later months of the year, a programme to sustain per-acre revenue for all growers should be put in place.
"Obviously a programme cannot be established that [only covers] California citrus, thus we are recommending several avenues to reduce the negative impact that could occur at the producer level," he said.
In 2017 the US exported US$34bn worth of horticultural products, accounting for a quarter of the country's total agricultural exports.