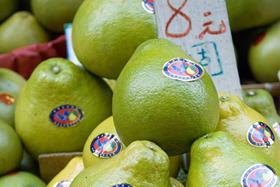 Legislation proposing the ban on citrus imports from China has been introduced in the US in response to the USDA's decision to grant access to five types of citrus in April.
As part ofphase oneof the US-China trade deal, the US approved the import of pomelo, Nanfeng honey mandarin, ponkan, sweet orange, and Satsuma mandarin under a systems approach.
According to a report from UPI, a US lawmaker has introduced a bill to stop the development over concern on the effect it could have on US citrus growers, particularly in the state of Florida.
Greg Steube, a Republican member of the US House of Representatives, introduced the bill called the US Citrus Protection Act after efforts in to sway the USDA decision in Florida were unsuccessful.
"Given that our growers have so many other challenges right now - competition from Brazil, citrus greening and other diseases - it's obvious to me that adding Chinese imports is going to be very problematic," Steube told UPI.
The proposal faces a long road to becoming realised with Steube acknowledging there was nocompanion bill in the Senate and that the bill might face scheduling problems.
When the USDA granted approval to the five types of citrus in April it addressed the concerns raised by this Act and determined that measures exist which can mitigate this plant pest risk.
"The United States has agreed that any prohibitions it places on the importation of fruits and vegetables will be based on scientific evidence, and will not be maintained without sufficient scientific evidence,' the USDA said in its original decision.
"It (China) has agreed to respect the phytosanitary measures the United States imposes on the importation of plants and plant products from China.
"That being said, all consignments of citrus fruit from China will be inspected at ports of entry into the United States for quarantine pests. If consignments are determined to be infested, they will be subject to appropriate remedial measures to address this plant pest risk, and Animal and Plant Health Inspection Service will evaluate whether remedial measures are warranted for the export program itself."