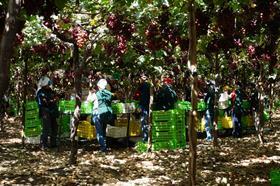 Dirk Winkelmann, president of Vanguard Direct, has reflected the 2020/21 Peruvian table grape season highlighting the forces that shaped it and how the company is already preparing for next season.
In a report on the leading fresh produce company's website Winkelmann described the season as one of the most unique and challenging seasons the company had experienced and said: "A year like this undresses your weaknesses – which can be a good thing."
The season was characterised by a number of compounding challenges, the first being labour. Labour strikes at the end of 2020 caused delays a critical point of the harvest, meanwhile, the continuing Covid-19 pandemic also affected labour reliability.
The pandemic's effects were felt in every area of the supply chain but Winkelmann said the health and safety of the Vanguard International team was always a primary focus.
"We reconfigured the entire operation and packing house facilities to ensure appropriate social distancing and Covid-19 safety. 12 lines reduced to nine to allow for proper distancing which cost us a 30 per cent decrease in efficiency," explained Winkelmann.
"Management transitioned to working from home when possible. Additional entry points had to be added to the packing house. Additional buses had to be contracted to transport personnel to the fields and packing house. Kitchen facilities and lunchrooms had to be expanded.
"New monitoring logs for daily temperature and health checks, along with HR protocols, had to be put in place.And these were just a few of the changes made in this "new environment" we are operating within."
On top of all of this, one of the most significant challenges was the vessel shortages and container backups. As Vanguard harvested between 60,000 and 90,000 cartons a day at the peak of the season, it was met with logistics delays that severely affected its overall operations and eventually affected the condition of the fruit.
"We know how to grow exceptional grapes, so in reflecting back on the quality of our product for the 2020/21 season, we definitely feel that the quality, size, and taste were all great. It was the myriad of industry events outside of our control that impacted the condition of the fruit. This is important to understand – we executed well on the quality, but the confluence of outside events negatively impacted the condition", said Winkelmann.
"Seasons like this are chaotic, incredibly stressful, and stating the obvious, not ones we hope for, but out of these periods comes change, addition of systems, process tweaks, and planning that makes our organisation and products better for years to come."
Looking towards 2021/22 Vanguard has already started planning and implementing changes to avoid some of the challenges of this season.
To ensure labour continuity Vanguard is reviewing and reconfiguring its packhouse lines to will reduce errors, create operational efficiencies and reduce risk on product shipment delays. It also plans to secure a more consistent workforce.
It is also expanding its Peru facilities both in the packhouse and in its pre-cool and cold storage rooms to provide additional space and distancing practices.
Vanguard's varietal mix will also be adjusted to meet what it said is an increasing demand for green grapes. Its proprietary premium grape mix going into the 2022 season will be 60 per cent green varietals, 30 per cent red varietals, and 10 per cent black varietals.
"We learned a lot coming out of the previous season. The confluence of external events along with the Covid-19 pandemic have led us to making positive and defensive changes not just for the upcoming season but for the years ahead," said Winkelmann.
"These are changes that will be critical for the company and ensure our ongoing commitment to provide the best quality produce worldwide."