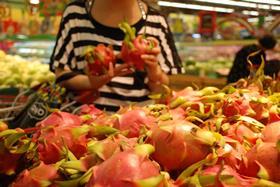 China is the largest export market for Vietnam's agricultural produce, and according to VietnamPlus, businesses across the country are making preparations to boost exports once the market has recovered from the Covid-19 pandemic.
The outbreak of coronavirus saw Vietnamese exports to China drop by 22.2 per cent over the first two months of 2020.
Reports from Vietnam indicate customs clearance at border gates has resumed, including at the Kim Thanh International Border gate number two.
Situated in the Northern province of Lao Cai, approximately 100 trucks of fresh produce, including dragon fruit and watermelon, is being exported to China daily.
Dang Phuc Nguyen, secretary general of the Vietnam fruit and vegetables association, said trading activities between Vietnam and China are gradually regaining pre-pandemic levels, and the Chinese government has taken measures to recover trade with other countries.
Fruit importer and exporter, Chanh Thu, is one company that has resumed exports of dragon fruit to China.
Deputy director, Ngo Tuong Vy, said signs were positive, but remained cautious given the complexity of the Covid-19 pandemic and the fact that consumption levels are yet to stabilise.
Vy is optimistic however, telling VietnamPlus, if the market is unable to recover in the second and third quarters this year, there should be enough time to restructure cultivation areas and produce processes.
Last year the Tam Vu dragon fruit cooperative in the Mekong Delta province of Long An exported seven containers of red dragon fruit to China by sea.
Director, Truong Quang An, said apart from China, the cooperative is considering shipping the fruit by sea to other markets like Malaysia, Thailand and the Middle East.