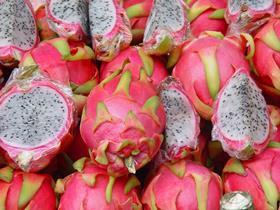 In the first quarter of 2020, Vietnam's fruit exports to China, its largest market, have dropped 29.4 per cent year-on-year.
A report from VnExpress, has detailed the impact coronavirus (Covid-19) has had on the one of Vietnamese fruit industry's most important relationships.
The Department of Farm Produce Processing and Market Development told VnExpress the value of exports to China in the first three months of the year fell to US$300.4m.
One of the main contributing factors was the backlog of fruit, including dragon fruit, watermelon and banana, that had built up at the Chinese border due to a lack of processing capacity in China.
The Department said trade had partially resumed but exports were still suffering. Still, there is some hope that once conditions return to normal, Vietnam could see a surge in exports.
Vietnamese imports have also suffered, experiencing a 30 per cent drop to US$294m. China's, Australia's and Thailand's exports to Vietnam all dropped by at least 10 per cent.