Prime Minister and Minister of Agriculture visit World Horti Center in Naaldwijk
Vietnamese Prime Minister Phạm Minh Chính hopes to see more collaboration between his country and the Netherlands in the field of horticulture.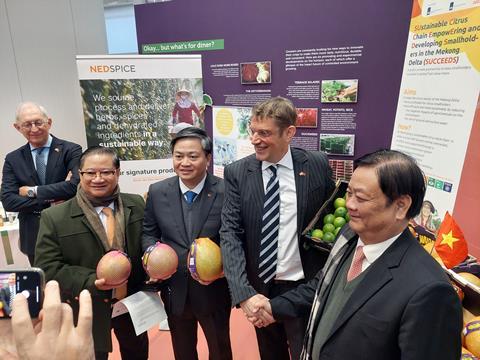 Chính has travelled to the European nation for a series of meetings this week. He and Vietnamese Minister of Agriculture, Le Minh Hoan, visited the World Horti Center in Naaldwijk on Monday (12 December).
The pair were shown a range of high-tech greenhouse technologies being developed at the facility.
Also on display were a selection of Vietnamese pomelo and lime offerings, sent to Europe by The Fruit Republic, one of Vietnam's leading citrus exporters. Hoan was delighted to see seedless limes grown by the My Long cooperative in his native Dong Thap province.
Siebe van Wijk, director of The Fruit Republic, invited the ministers to visit The Fruit Republic in Can Tho to discuss how the fresh produce sector in the Mekong Delta region can be developed further.
"For example, The Fruit Republic would like to get market access for Vietnamese citrus to Japan, Korea and Thailand," van Wijk said. "These large consumer markets import citrus from all over the world, but Vietnamese citrus cannot yet enter this high-potential market.
"Shipping from Vietnam to Japan or Korea is only seven days, while many other countries who export to these markets require three or four weeks of shipping."
With the aid of high-tech growing systems, Chinh said Vietnam had enormous potential to boost its agricultural exports. He hoped increased collaboration with countries like the Netherlands would help facilitate increased trade.
"We can learn from each other about market development," Chinh said, according to Tuoi Tre Online.