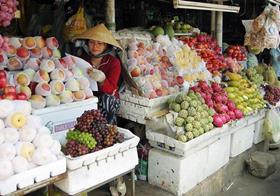 As Covid-19 cases continue to surge in Vietnam and new restrictions are introduced, Vietnamese growers have faced new challenges trying to sell their produce.
According to reports from VnExpress, growers have been left with tonnes of fruits and vegetables as markets have closed, traders have stayed at home and prices have dropped.
Nguyen Van Thuan, a longan grower in Chau Thanh District, Dong Thap Province, told VnExpress his longans are ready to be sold but no traders have come to buy them. Prices have also dropped by over 50 per cent compared to pre-pandemic level he noted.
'I need to sell over 20 tonnes of longan now. This neighbourhood needs to sell hundreds of tonnes from now to the end of this month, but no traders have come here,' said Nguyen Van Thuan.
Similarily, Nguyen Van Duyen, chairman of Hoa Tan People's Committee,said 1,200 tonnes of purple sweet potatoes grown in Hoa Tan Commune, Chau Thanh District were still awaiting customers.
"Farmers don't know what to do. If this situation continues, they will surely have to throw their potatoes away," said Nguyen Van Duyen.
The entire supply chain has been affected by the latest outbreak in Vietnam. Ho Chi Minh City's three major wholesale markets Hoc Mon, Binh Dien and Thu Duc have been shut down as have dozens of supermarkets and other smaller markets across the city.
Logistics have also provided a challenge with less trucks on the road as a result of the closures and restrictions, according to VnExpress. Plus, the trucks that are moving product are faced with increased delays as police stop vehicles at checkpoints.