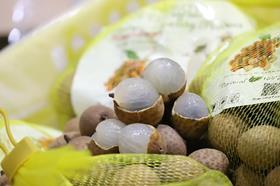 The first shipment of Vietnamese longan has been imported by Australian wholesaler Aus Asia Produce on the back of a protocol ratified at the end of August.
The 500kg consignment from Hanoi-based exporter Green Path was sent to Melbourne and is set to be sold in Asian grocery stores across Australia.
Thanh Truong, director of Aus Asia Produce, said Vietnamese longans were a product his company, particularly his father and director, John Truong, had been working to import for a while.
He said the Vietnamese longans would fill a gap in the market previously occupied by imports from Thailand.
"Traditionally Australia only has a six-month window for longan, but growers have been able to extend that to a nine to ten-month growing season," Truong said.
"This year there is a significant two- to three-month gap and we are trying to fill in that period where there is no fruit."
"My dad was the sole importer of longan from about 2004 to about 2013, when the drought in Thailand caused prices to increase and quality to drop and it became too difficult to get [product] through the protocol."
Longans from the first shipment were sold in Melbourne and Adelaide, and Truong said future shipments, expected to be around two to three tonnes, will also be sold in Sydney and Brisbane in Asian grocery stores, with demand coming from the Vietnamese and Thai and Cambodian communities.
Truong said access for Vietnamese longan means there is the ability to supply the Australian market with longan almost all year round now. He hopes that this will help build the profile of the fruit in a similar way to dragonfruit.
"I think dragonfruit has become an extremely well-known fruit and it's in all the retailers. If we can get this right then there is a market for longan to also be in Australian retailers," Truong said.