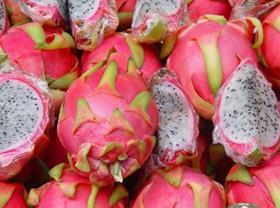 Exporter Hoang Phat shipped the first consignment of Vietnamese dragon fruit to Australia, according to Vietnam's Ministry of Agriculture and Rural Development.
The three tonnes of white-fleshed dragon fruit grown in Long An are the first batch of Vietnamese fruit to be sent to Australia since the country gained access for fresh dragon fruit earlier this year.
Deputy Minister of Agriculture and Rural Development, Tran Thanh Nam, told Vietnam Plus that the first shipment was a milestone for Vietnam's agriculture industry.
While 80 per cent of the region's dragon fruit is shipped to China, the access to Australia paves the way for local growers to improve their production and harvest to meet the demands of the Australian market.
Under the protocol, Vietnamese dragon fruit must under vapour heat treatment at approved facilities.