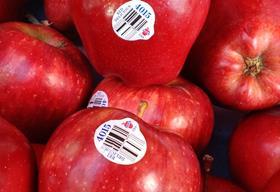 Washington State's apple packout is expected to hit 134m cartons (18kg) in 2020, according to the latest forecast from the Washington State Tree Fruit Association (WSTFA).
The figure is almost exactly in line with the 133.9m cartons packed in 2019.
"Harvest is underway and growers anticipate being able to meet strong consumer demand with an ample and high-quality harvest," said Jon DeVaney, president of WSTFA.
"Our members are growing large crops, but with more varieties to choose from and while continuing to raise the already high standards of quality that domestic and international consumers have come to expect."
For the second straight year, Gala will be the leading variety by volume, accounting for 23 per cent of the overall crop. Red Delicious is projected at 17 per cent, followed by Fuji (14 per cent). Production of Cosmic Crisp, a new propriety variety being backed by a US$10m marketing campaign, is set to make up 1.2 per cent of the total Washington crop.
Organic apple production is forecast to reach 21m cartons in 2020, up from 15m in 2019. WSTFA highlighted that not all organic production is ultimately packed and marketed as organic.
The forecast is based on a survey of WSTFA members and represents a best estimate of the total volume of apples that will eventually be packed and sold on the fresh market, excluding product sent to processors.
The Washington harvest typically begins in August and continues into November.