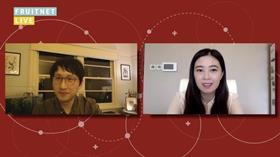 The discovery of Covid-19 cluster in Beijing's Xinfadi wholesale market in June was met with swift action from Chinese authorities. The market remains closed and workers are slowly returning to the site, following a mandatory 14-day quarantine.
Zhang Yi (pictured right), of fresh produce supply chain service provider Supplink, said one of the significant challenges facing wholesale markets is its outdated technology.
"There has been no substantial improvement in software or hardware in open air wholesale markets in the last thirty years," explained Yi.
"The way forward is to upgrade the hardware facilities and build indoor treatment centres, with cold-storage facilities. Markets need more precise sorting systems, with information systems that can monitor the entire supply chain."
Lin Yetao, general manager of Shanghai Huizhan Wholesale Market, said its market data showed trade volume had dropped more than 30 per cent between January and May year on year, with losses across all categories.
Reports suggest China has turned a corner in curbing the spread of the virus, and markets are beginning to show signs of recovery, according to Ying Jianjun, of Jiaxing Fruit Market, China's leading wholesale hub of domestic fruit.
He said consumption is not as strong compared to 2019 totals, with US cherries and South African citrus two key imported products feeling the brunt of the downturn in consumer spending.
In a post-Covid-19 world, both Yetao and Jianjun highlight e-commerce as a building block for the future.
"Wholesalers have moved to trading online themselves. Community buying is thriving, and live streaming promotions with celebrities is becoming more prevalent," Yetao said.
Jianjun agreed, adding the focus is turning to the consumer: "Everything is pushing us to be more service-oriented in the future. It is evolving as we transform from a seller's market to a consumer market," he said.