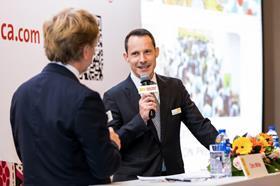 Chris White: You've just announced that you're rescheduling Asia Fruit Logistica to 18-20 November 2020. Why?
Will Wollbold: It's very simple: we want to give our exhibitors and visitors more time to prepare for Asia Fruit Logistica. With this rescheduling to mid-November, it now means that everyone has more than six months to plan.
CW: So what does this mean for exhibitors?
WW: Our exhibitors all now have more time to assess the situation: first, we have moved forward our stand placement proposal period to July and, second, we added a new provision to our terms and conditions that makes it easier for them to pull out if they change their minds.
You need to know that Singapore Expo, our venue for Asia Fruit Logistica and Asiafruit Congress, is considered one of the safest venues in the world.
We are working very closely with Singapore Expo to develop new protocols that include regular deep cleaning of the trade show premises, reinforced air conditioning for additional air refreshment, temperature control of every single attendee when they get to the venue, safer social distancing, and so on.
As organisers, we want to ensure that our trade show meets all the new health and safety concerns of our exhibitors and our visitors.
CW: And what does the rescheduling means for visitors?

WW: They know that today things are still uncertain everywhere in the world. Countries are only now coming out of lockdown, and we all need more time to adjust to the new reality out there.
November is more than six months away and we're confident that by then it will be much safer and easier for everyone to travel to Singapore.
Don't forget that Singapore is also a major travel hub. That means it's a single flight away from very many cities around the world. Getting to Singapore is going to be so much easier and safer.
CW: But exhibitors and trade visitors are certain to worry about attendance levels this year, surely?

WW: That's a fair point. However, today our exhibitor registration numbers from all around the world are good and broad in terms of international participation. Our exhibitors have remained very loyal, which is clear indication to me that they're counting on us to deliver a world-class event this year too.
And, at a time like this, with change underway everywhere, an international trade show like Asia Fruit Logistica plays a very important role.
Asia as a region is becoming more important for fresh produce imports and exports. And we want Asia Fruit Logistica to be the place in Asia for our delegates to reconnect with key partners in the region and to find new business contacts.
By November we think everyone in the business will want to meet again. They'll want to assess the year that has gone by and prepare for the new marketing campaign that starts in January 2021. And they will want to do that somewhere safe and that's easy to get to.
CW: And you think Singapore is the right location for that to happen?

WW: Yes, I think it is. Singapore is something of an example around the world for the way it's dealt with the coronavirus. The Government of Singapore reacted very early, it took strict measures, and is making extensive use of all the technology available. Singapore also has a very modern and robust health system that's allowing them to tackle this pandemic very effectively.
Trade shows in Singapore start up again as early as September. Asia Fruit Logistica has got the full support of Singapore Government through the Singapore Tourism Board (STB).
They recognise Asia Fruit Logistica as a truly significant platform for the global fresh produce industry, and are pleased to host the event at Singapore Expo on 18-20 November 2020.
They're also committed to working closely with us towards a successful show and look forward to welcoming our exhibitors and visitors to Singapore in November.