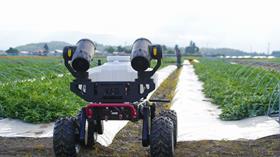 Japanese growers have embraced XAG's autonomous farm robots as they struggle to maintain high quality fruit production amid labour shortages.
The agricultural drone service provider launched its R150 unmanned ground vehicle in Japan in June, where the all-electric robot has been trialed for crop spraying across a variety of fruits such as apple, grape, watermelon, and citrus.
InJapan'sYamagata Prefecture – one of the four main Shine Muscat production areas –growers have used the XAG R150 farm robot to spray bottom-up on grape vines that climbed on overhead trellis.
In Obanazawa, another city of Yamagata prefecture, XAG R150 was also flexibly adapted to watermelon farms and used for watering the melon crops in a field demonstration.
With strong trafficability on tough terrain, the vehicle could readily drive between ridges of watermelon field following pre-set route to increase efficiency, reduce pesticide use and save water.
The Japanese government's Agricultural Export Expansion Strategy – which aims to raise exports to¥2 trillion (US$16.3bn)in 2025, followed by¥5 trillion (US$45.7bn)in 2030 – calls for modernising farm machinery like the XAG R150 to enhance production and productivity.
The government is actively supporting smart farming technologies through new laws and regulations, to help growers scale up their use of technology.