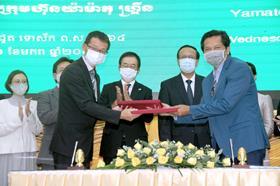 Cambodia's Ministry of Commerce has signed a memorandum of understanding (MoU) with Japanese company Yamato as part of efforts to improve Cambodia's agriculture sector.
The deal was signed between Samrith Sakura, acting director-general of the ministry's Domestic Trade General Directorate, and Katsuhito Nabeshima, founder and chief executive of Yamato Green on 6 January 2021.
Pan Sosak, Cambodia's minister of commerce, said Yamato Green would help Cambodian growers to better supply markets at home and abroad.
"As an industrial and agro-business development partner, Yamato Green will be a suitable partner for the development of sustainable agribusiness production and the provision of processing and packaging techniques and various procedures to increase opportunities to effectively supply the domestic and export markets," Sorasak said.
"Small and medium-sized enterprises and farmers' groups will be able to establish an inclusive supply chain and gain a competitive advantage for market penetration and broad diversification."
This latest MoU will add to Yamanto Green's growing presence in Cambodia, in June 2020 it signed an MOoU with Cambodia's Ministry of Agriculture, Forestry and Fisheries.
Through the MoU, Yamanto Green provided technical support for growing, processing, packaging and exporting of vegetbales. It also purchased vegetables from growers and announced plans to supplyAeon and Macro supermarkets.