Kiwifruit marketer sends first consignment of new-season New Zealand fruit to Japan
The 2023 New Zealand kiwifruit export campaign is under way, with single-desk marketer Zespri anticipating a "more stable" shipping environment this year.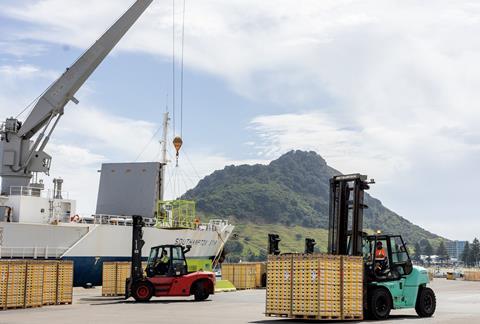 The first shipment of new-season fruit set sail from the Port of Tauranga this week. Loaded aboard the Southampton Star, the 2,500-tonne consignment is bound for Japan.
It is the first of 53 charter vessels Zespri will use this season. It will deliver around 72m trays of New Zealand-grown Green, SunGold and RubyRed kiwifruit via charter vessels to more than 50 countries.
A further 73m trays will be shipped using container services.
Zespri's acting chief global supply officer, Jason Te Brake, said the New Zealand kiwifruit industry experienced a challenging 2022 and a tough start to 2023, given adverse weather events, including Cyclone Gabrielle. Therefore, the start of the new season represents somewhat of a reset for the industry.
"Demand for our fruit remains strong, and with this season's harvest ramping up over the coming weeks, we'll soon move into main-pack where the bulk of our fruit is harvested," Te Brake explained.
"It's a proud moment seeing the first ship taking our fruit to customers and consumers but especially this year given it's been such a challenging start to the year for some of our growers."
Te Brake said lower fruit volumes and added labour availability this season, compared to 2022, would help the industry to improve fruit quality, which will play a key role in returning more value to growers and communities.
The industry's Quality Action Plan, launched in October last year, will also aid in this regard, according to Te Brake.
"The industry's Quality Action Plan has seen significant collaboration throughout the entire industry to ensure we deliver great quality fruit for our customers and consumers in the 2023 season, as well as in the years ahead," he explained.
One of the key principles within the Quality Action Plan is assessing fruit flow decision-making from end-to-end. Te Brake said Zespri was looking at how it can optimise its shipping programme to ensure high-quality fruit is consistently delivered to consumers in offshore markets.
"While Covid-19 caused significant shipping disruption in recent years, we're expecting a more stable shipping environment this season, with better transit times delivering fruit to markets," he explained.
"With our first charter vessel now on the way to market, we're looking forward to our shipping programme ramping up in the weeks ahead and continuing to work with our shipping partners to provide consistently high-quality Zespri kiwifruit for our customers and consumers to enjoy this season."