EBC said the industry invests more than US$100m each year in tackling security threats
The Ecuadorian Banana Cluster (EBC), made up of the country's main banana associations, has issued a statement highlighting the extensive security efforts the industry makes following a recent report that drug cartels are using the banana industry to ship cocaine to international markets.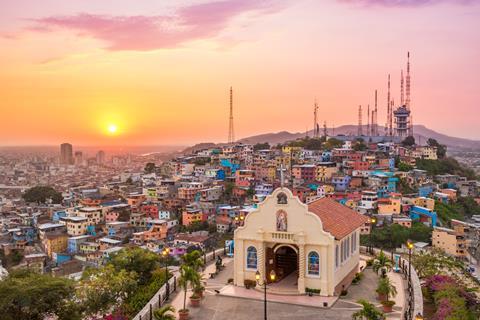 EBC said it had been forced to issue the statement "in response to recent unfounded statements that threaten the work of an entire industry that makes every effort possible to guarantee the safety of the production and export chain of bananas".
Associated Press journalist Regina García Cano reported this week how the infiltration of the banana industry by drug cartels had sparked a wave of violence in the Pacific port city and banana-shipping hub of Guayaquil. The report said the cartels are packing cocaine in with legitimate shipments of bananas which pass undetected through poorly supervised ports.
"Knowingly or not, banana growers, exporters, shipping corporations, port operators, private security companies, customs agents, agriculture officials, police, and buyers offer opportunities that drug traffickers have exploited," it noted.
"Some traffickers have created front companies to mimic legitimate banana exporters, while others have acquired legitimate businesses, including plantations. They have found companies willing to be complicit in trafficking. They also have paid off, threatened or kidnapped truck drivers and other workers to help get cocaine into shipments."
In response, EBC said the banana industry spends more than US$100m each year on custodial personnel, video surveillance cameras, tracking technology, satellite locks, radios, artificial intelligence systems, and other measures to prevent it from becoming a victim of criminal acts.
García's report detailed a number of recent incidences in which authorities had found cocaine hidden in containers of Ecuadorean bananas, including a 9.5-tonne haul in Spain, almost 8 tonnes in a seizure by Dutch officials, and similar seizures by the authorities in Greece and Italy.
But EBC warned that such claims should be back by evidence, noting: "Ecuador is a victim of international organised crime which brings dire consequences upon national security and exports market position.
"To prevent the spread of misinformation in this complex situation, any statement regarding drug trafficking in exported products must comply with due process of law and must be supported by evidence and documents issued by the competent authorities that clarify the indicated legal situations."
The statement went on to say: "Drug trafficking and consumption is a global-scale problem that harms everyone; such as the countries where bananas are farmed and those where they are enjoyed by customers, affecting exporters, importers and society as a whole.
"We urge and demand public authorities to consider this situation seriously and prevent from providing statements not warranted by a due process according to the laws; to act jointly to guarantee the security of exports, implementing non-intrusive equipment in ports taking into account the competitiveness of the sector, and other measures to be applied throughout the value chain of the export product; and, additionally, we urge authorities to promote international cooperation focused on the responsibility that export destination countries must assume in the face of this context."