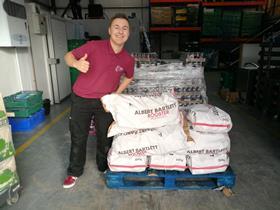 Albert Bartlett has now redistributed the equivalent of five million meals through its partnership with FareShare.
The potato supplier has been providing surplus food via FareShare since 2013, but significantly ramped up its support in 2021, sending 1,971 tonnes of potatoes and carrots in the last year alone.
The Scottish company has worked with FareShare to redistribute both potatoes and carrots through the charity's network of 30 warehouses across the UK. These support thousands of local charities and community groups including food banks and pantries, refuges, hostels and community centres.
Albert Bartlett explained that it experiences surplus when crop yields are higher than expected and some crops are more difficult to sell through traditional routes, such as larger potatoes from baby potato stock.
This, combined with the impact of Covid-19 on the company's SpudULike By James Martin business, enabled it to divert 1,000 tonnes of surplus baking potatoes between February and April 2021. This meant that potatoes that would have otherwise gone to animal feed were able to be diverted to their intended purpose of feeding people.
John Heginbottom, sales and marketing director for Albert Bartlett, said: "In early 2021 we had surplus potatoes due to our SpudULike By James Martin outlets being closed through the lockdown. We approached FareShare with a proposal and they quickly found a distribution solution to supply their network. We enjoy working with the team at FareShare who are both dynamic and flexible in overcoming supply chain challenges".
Surplus with Purpose
More recently, Albert Bartlett has also been able to make use of FareShare's Surplus with Purpose Fund, supported by funding from the Scottish Government, to send additional volumes of surplus. The scheme helps to cover the extra costs to farmers, suppliers and producers of redistributing their good-to-eat surplus food to people, rather than let it go to waste.
In late 2021, Albert Bartlett accompanied FareShare to help to put food waste on the agenda at COP26. It joined FareShare's roundtable event with leading government and industry representatives to discuss what more can be done to realise the environmental benefits of redistribution.
Lindsay Boswell, chief executive at FareShare, said: 'Thank you, Albert Bartlett for providing the equivalent of five million meals to some of the most vulnerable people in our communities. Having regular access to good quality nutritious food is so important to the charities and community groups we support.
'The volumes of potatoes that we have seen in the past year alone, are testament to Albert Bartlett's commitment to reducing waste, and we thank you for helping FareShare to deliver our mission to fight hunger and tackle waste."