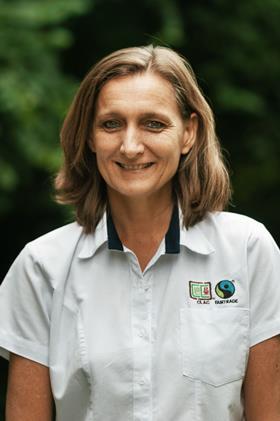 What's your impression of the situation at the moment in terms of workers' rights in the banana industry? Has it changed since you began with CLAC in 2006?
Marike de Peña: Inside Fairtrade, we have seen real progress and empowerment over time. We've also seen more challenges. There are topics like climate change that really put you back. We see also, and maybe more relevant for the UK market, that there is more than ever a pressure on price, which can seriously affect not just social, but environmental sustainability. So while Fairtrade had huge opportunity to grow and really have an impact on people's lives, I now see some challenges.
What is your opinion of in-house sustainability schemes, such as Sainsbury's Fairly Traded tea and Mondelez' Cocoa Life?
MP: I think it needs to be a combination. I think every company has specific extra goals they want to achieve, and they can't always find that in any certification scheme. I would say we should not criticise any sustainability initiative because every initiative is trying to do something better. But switching from an external initiative that has been built up, in the case of Fairtrade, from the producer upward for something else – I think the combination would have been a perfect choice.
How do you see Fairtrade's relationships with the biggest brands and companies?
MP: I think everybody needs to have some kind of profit, not just the big ones. Profit needs to be there from the producer up, because if it's not profitable nobody will ever improve their lives. The thing is it's now more about the companies down, and when you reach the producer there's nothing left. I think that's the main problem we currently have. I think we also need to see two sides – we need sustainable prices and sustainable practices. My personal vision is that we need to work towards responsible consumption, which means we probably need to consume less, become healthier, and more responsible. And maybe every little product we consume will be more expensive, but the package together can still be the same.
What are the strengths of Fairtrade for you as a banana producer?
MP: It's the combination of the three pillars. It's economic because we have a minimum price, and we revise it yearly to make sure it covers the sustainable cost of production; we have the social aspect, where we work on empowering producers so they can negotiate even better than the minimum; and we are environmentally focused. For producers, the standards are tools for development, more than requirements imposed from the outside.
Where does Fairtrade sit in disputes between workers and managers, such as the recent Fyffes suspension from the Ethical Trade Initiative?
MP: It is an extremely difficult topic. What we believe as CLAC and Fairtrade is there should not be tension between workers and the company that employs them. It doesn't get you anywhere. What we need to build up is dialogue and trust between the parties, and the understanding that organisation is a good thing, for the company and for the workers themselves. If there is a tension that explodes like this, something has gone wrong with the dialogue.
What do you see as the limitations of Fairtrade?
MP: I don't see weaknesses in the scheme as it is, but we don't have worldwide acceptance. We need to work far more hand in hand with the media to promote, not just Fairtrade, but sustainability as a whole. Maybe in 10 years we could remove the mark itself, because the principle will be global, and that would be the best thing we could ever achieve in Fairtrade. It's not about the mark, it's about what we need to do globally to be sustainable for the poor people in the south and the businesses in the north.
What do you think of the audit fatigue put on growers through having to meet multiple standards?
MP: In the end, we need a global standard, and that will take some time. The requirements we put on producers need to be sustainable. If we require more, and we're not willing to pay for it, it will be extremely costly and unsustainable. But if we really want to push and support better practices in social and environmental and it's all covered by a price, then I think it's a good thing to do.
How important are cooperatives?
MP: The collective role is very important. Being a cooperative, you're better and stronger in the market. It enables you to negotiate better, and deliver services to your members to make them more competitive. It's the only way small farmers can really participate in global trade. On the other hand, being a cooperative makes you focus daily on collective benefits, more than individual needs.
Have producer prices fallen or increased in bananas?
MP: I'm from an ACP (African, Caribbean and Pacific) country and definitely the prices have been lower than the year before. This year the UK is buying a lot of bananas from ACP countries, and the tariffs have been lower. In principle they are going up; if you have your inflation level high, price is also going up relatively speaking, but not necessarily on a producer level. In the Dominican Republic, we lost 50 per cent of production this year, even more than last year when we lost 40 per cent. It is challenging. We are now fighting to get back into the market.
How can banana production become more environmentallysustainable?
MP: What we're doing in CLAC and Fairtrade is promoting the self-production of organic fertilisers. It's cheaper, better and we have seen an enormous reduction in pesticides and better productivity among conventional farmers.