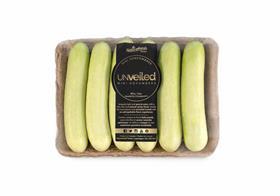 It's hard to top the glamour of Rose Berries last month (for info the raspberries tasted amazing but the teenager on the checkout asked me if I wanted a new pack because they didn't look ripe, so I am unsure about mass-market appeal).
Cucumbers seem a little dowdy in comparison, and certainly less #insta-worthy. Here in the US the standard offering differs to the UK. What retails on an English shelf as a cucumber is here widely stocked and called an 'English Cucumber' (it's like the Chinese calling Chinese food 'food' – go figure!) or seedless cucumber. Some shelves have a seeded cucumber: it's shorter, 'knobblier' and looks like a heritage variety from my dad's greenhouse.
More noteworthy is the fact that the mainstay of the aisle is the 'mini cucumber'. It is so entrenched that even Aldi has a conventional and organic line. They do make occasional appearances on the UK shelf.
Retailed in 1lb bags – there's no metric system here, thank you very much – at $1.39 (£1.10), it's a very family-friendly price point for the US. The cucumbers are around 12cm long and usually in ziplock sealed block-bottom bags.
New and exciting in this category are currently "unveiled" mini cucumbers. The unveiled cucumber has a perfectly pale complexion. The skin is thin and light green in colour. In fact its external hue exactly matches that of its internal flesh.
Taste-wise it is the same cool, crisp refreshing taste you would expect. Marketing-wise they have pitched at the premium end, with a matt black and gold finish to the packaging. They may have missed a trick on the 'kids' angle as I know there are more parents out there than they would like to admit who laboriously peel their cucumbers for children.
There is also the introduction this year of the cocktail cucumber, in premium retailers, about 4cm long, 1lb pack weights and retailed in punnets with film lids. I first came across these at a Loblaws in Canada at the start of the season on a busman's holiday.
Cocktail and mini cucumbers at this time of year are all grown in Canada, where the cucumber trends here descend from. Personally I am smitten with the cocktails for snacking and a little more doubtful about miniature naked cues.